The Third Room Open Air Garden
07.08.2020 // 17:00 - 22:00
08.08.2020 // 15:00 - 23:59
09.08.2020 // 13:00 - 22:00
Yes, it is happening and we are very excited about it. We are hosting our first event in the corona era. It is the same area where we usually would have held our open air events such as the Ostgut Ton Showcase and many more planned events for this year. Having this said, of course we need to adapt our concept as "normal" dance events are not allowed right now. Still we want to give you the best experience possible
This is a seated event. You can dance of course in your given space.
Limited capacity for 400 people.
You can reserve a table for each day and slot with buying a ticket including 25€ free consumption for drinks. We don't charge an entry fee!
We have also an "All Day Ticket" for Saturday and Sunday. 40€ free consumption for drinks.
We offer you a wide selection of drinks and food as well (incl. vegan options). Only table service.
The ticket options are for two, four, six or eight people (whole table).
The tickets are not transferable to third parties due corona safety regulations.
Expect a cozy and intimate atmosphere with a qualitative musical programming for which the T3R crew is known for.
And of course a superb sound system!
Book your seated place here: https://t3rtickets.ticket.io/
▶︎ Important note: this event will only take place with good weather conditions. If we have bad luck then the event will be postponed to the next weekend 14.08 – 16.08.20. All tickets are valid for the postponed date and can be refunded as well.
For more questions: info@thethirdroom.de
We are looking forward!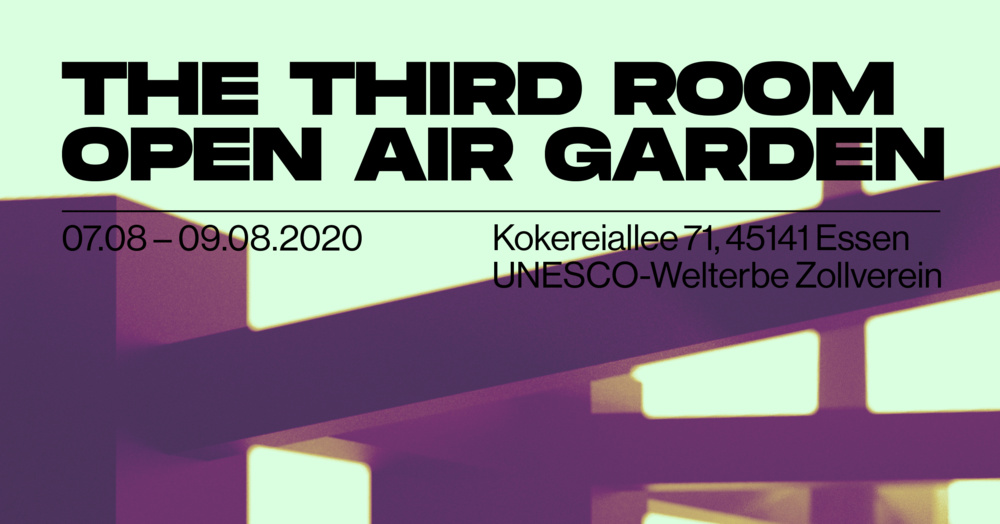 Friday 07.08.20
Slot 1*:
17:00 – 19:00 Ahmet Sisman
19:00 – 22:00 Roman Flügel

Saturday 08.08.20**
Slot 1*:
15:00 – 17:00 Henning Baer
17:00 – 19:15 Stef Mendesidis
Slot 2*:
19:45 – 24:00 Blawan

Sunday 09.08.20**
Slot 1*:
13:00 – 14:00 VNNN.
14:00 – 17:15 Dr. Rubinstein
Slot 2*:
17:45 – 18:45 VNNN.
18:45 – 22:00 Gerd Janson

* 25€ incl. free consumption fee for drinks.
** "All Day Ticket" for Saturday and Sunday. 40€
free consumption for drinks.
The capacity for each slot is limited to 400 people.

Artwork by
Jan Petry / Peter van Langen