The Third Room Open Air x Zollverein
17.07.2021 // 12:00 - 23:59
Yes, it is happening. We are planning our first open air next weekend at UNESCO World Heritage's Zollverein in Essen.
Two floors, limited capacity.
A negative quick test (not older than 48hrs), vaccination certificate or covid recovered proof (within six months) is obligatory. No mask, no social distancing.
TICKETS
Phase I: 22€* (SOLD OUT)
Phase II: 25€* (SOLD OUT)
Phase III: 28€*
Phase IV: 32€*
*+ fees

Supported by Initiative Musik GmbH with project funds from the Federal Government Commissioner for Culture and Media.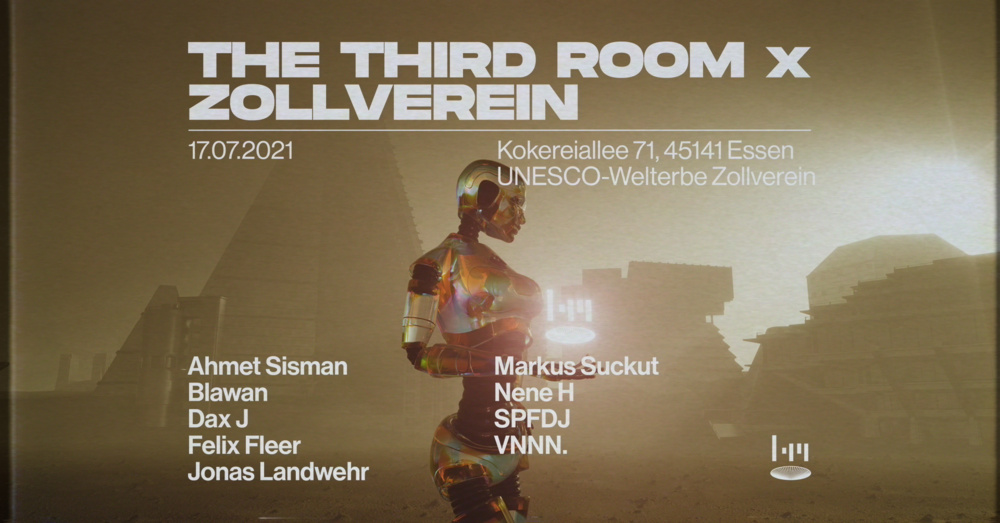 Ahmet Sisman (The Third Room)
Clara Cuvé (R-Label Group)
Felix Fleer (R-Imprint)
Héctor Oaks (KAOS)
Markus Suckut (SCKT)
NEWA (BASSIANI)
Parallx (R-Label Group)
VNNN. (The Third Room)

Artwork by
Jan Petry / Peter van Langen