The Third Room x Tresor.West
11.02.2023 // 23:00 - 10:00
We are coming back for Round 2 at Tresor.West on February 11th and of course with another musically treat. This time's guests on the two floors are Techno hot shots Alarico, Quelza, Sedef Adasi and U.R.Trax supported by The Third Room's Ahmet Sisman, Verschwender, VNNN. and Dortmund's favorite duo Alice & Bob.
The Regular Tickets are now online but don't hesitate. The Blind Tickets were sold out in no time!
Supported by Initiative Musik GmbH with project funds from the Federal Government Commissioner for Culture and Media.
Date/Time: 11.02.2023 / 23:00 – 10:00
TICKETS
Blind Ticket – 15€* (SOLD OUT)
Regular Ticket – 18€* (SOLD OUT)
Final Ticket – 22€* (SOLD OUT)
*+fees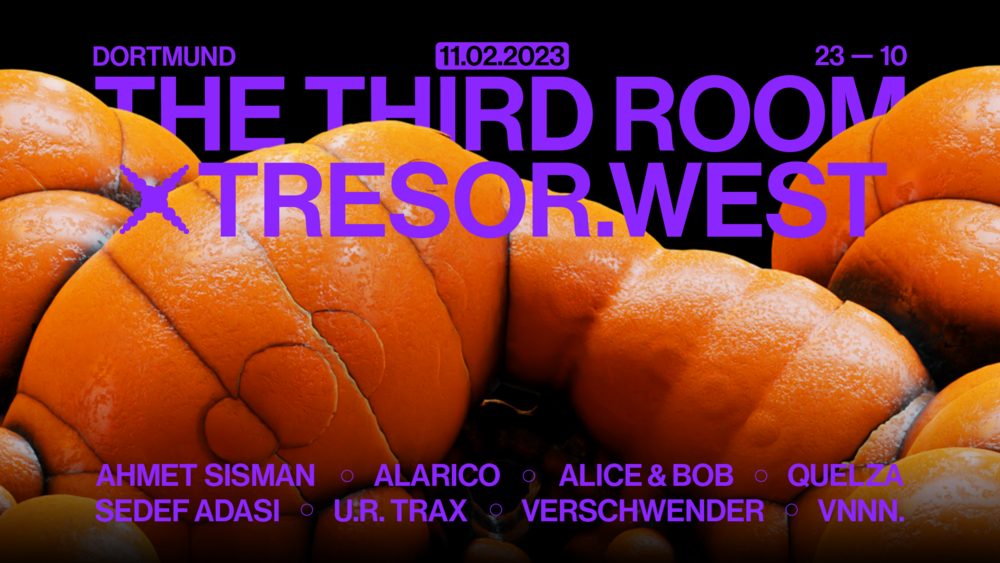 TW Floor
Ahmet Sisman b2b VNNN.
Alarico
Quelza
Verschwender
UFO Floor
Alice & Bob
Sedef Adasi
U.R.Trax

Artwork by
Daniel Bornmann (
Duat Agency)